Looking for a Good Read? Well here it is!
Ever find a book that you just cannot put down, well for me this is that book! Your Holistically Hot Transformation, by Marissa Vicario.
Honest, Easy and Very Thought Provoking.
One statement got me thinking:  "willpower isn't a reliable weight loss tool"
I repeated this several times, and realized that I do this a lot. If I don't prep my food, or forget to pack a healthy meal when traveling, I think "well I will just resist any temptations".   I cannot tell you how many times I have forgotten to pack a lunch for work and in my large office which vendors bring in not so healthy lunches, and I see a warm bread stick and say, I will just have one and realize I put 3 on my plate. Well I decided to use Marissa book as a tool like she suggests, promotes and provides in her book  and see if I could develop some new amazing healthy transformations on my own Holistically Hot Transformation.
Best part of the book is the easy steps Marissa provides to help, aid and move towards your own Holistically Hot Transformation.
At the end of the book Marissa provides ways to incorporate all of her knowledge into your every day life.  Use smaller plates to keep portions smaller, take the stairs instead of the elevator to incorporate exercise into your daily routine when you don't have time to go to the gym, drink water throughout the day so stay hydrates.  But most importantly, Marissa wants you to stop obsessing – don't focus on the scale, don't worry about being perfect.  Just be you.  Be holistically hot!
This is a great read for nutrition and health novices because the essentials are broken down in a way that is easy to understand. Your Holistically Hot Transformation includes recipes and a grocery list of food for each food group that should be present on your plate. Whether you're looking to learn about nutrition and a healthy lifestyle or looking for tips on how to maintain your already healthy lifestyle, Your Holistically Hot Transformation can benefit you.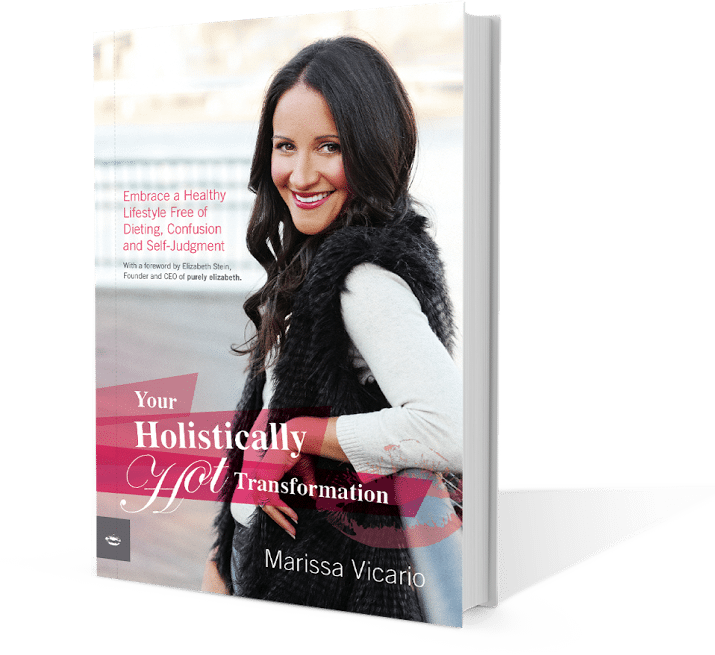 Back Cover.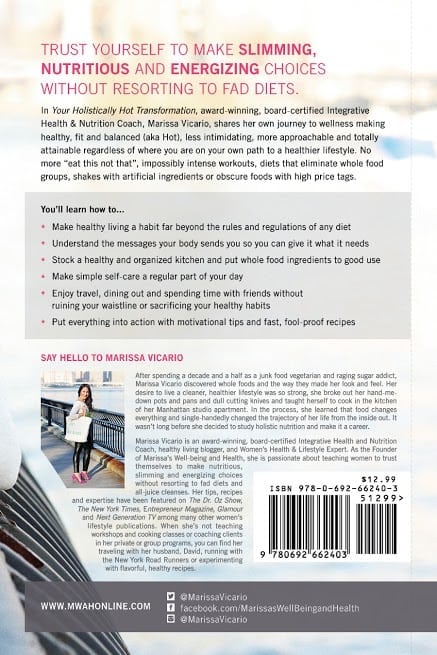 Embrace a Healthy
Lifestyle Free of Dieting,
Confusion and Self-Judgment
Your Holistically Hot Transformation (Holistic Health and Nutrition) Are you tired of fad diets and all-juice cleanses? Confused about all the conflicting nutrition information available? Over feeling guilty for your nutrition slip-ups? Finally learn to trust yourself to make slimming, nutritious and energizing choices without dieting, confusion and self-judgment! Award-winning Health Coach and Women's Lifestyle Expert, Marissa Vicario, wasn't always as healthy and happy as she is today. There was a time when her diet had more macaroni and cheese and G&T's than broccoli and green smoothies. It wasn't until she hit rock bottom that she realized something had to change, and it was in that moment that she vowed to make her physical, mental and emotional well –being a top priority. Your Holistically Hot Transformation follows Marissa's wellness journey from unfulfilled corporate professional to purpose-driven women's lifestyle aficionado committed to making healthy, fit and balanced (aka Hot), less intimidating, more approachable and totally attainable to women regardless of where they are on their own path to a healthy lifestyle. You'll find advice for making healthy living a habit, tips for stocking a healthy kitchen, guidelines for understanding the hunger and fullness cues your body sends you, simple ideas for self-care you've never tried before and a sprinkling of fast, fool-proof recipes and motivational mantras. Smart, honest, and actionable, Your Holistically Hot Transformation is the most relatable health and nutrition book of its kind.
Your Holistically Hot Transformation will teach you how to:
Make healthy living a habit far beyond the rules and regulations of any diet
Understand the messages your body sends you so you can give it what it needs
Stock a healthy and organized kitchen and put whole food ingredients to good use
Make simple self-care a regular part of your day
Enjoy travel, dining out and spending time with friends without ruining your waistline or sacrificing your healthy          habits
Put everything into practice with actionable advice, motivational mantras and fast, fool-proof recipes
What You Can Take from the Holistically Hot Book:
*Learn about Superfoods *Holistically HOT foods you should eat (favorite part) I Love trying new foods! *Superfoods to incorporate into your diet (easy ways to incorporate them) *Must-have kitchen gadgets/tools (a great reason to shop) *Foods to stock up on *Recipes (green smoothies) *Cravings and your relationship with food *Listening to your body*
I love all the prep ideas and stocking up tips for keeping healthy foods on hand to succeed. PLUS…you get a great sample shopping list.
From the Author
Health and wellness has become more mainstream in recent years, so there's a lot of nutrition information available from a multitude of sources, most of it competing. Because I studied nutrition,I can sort through it all, but what about the woman who is just getting started on her nutrition journey? I noticed that when I started working with a client,she was almost always confused and misinformed about how to eat and mindfulness and self-care parts were most often completely missing. I wanted to simplify everything for the woman who is just starting out, confused to the point of paralysis or has tried everything to no avail and wants to start over with a more balanced approached. I remember being that woman at one time, so I wrote the book I would have wanted to read. Sometimes we need someone to reassure us it doesn't have to be so complicated and that everything is going to be OK.That's Your Holistically Hot Transformation.